High level of engagement with high content frequency and authenticity
Since June 2019, Macaw has been implementing a data-based social media and content strategy for congstar. In the course of this implementation, the relatively young TikTok social network is also to be developed as an important brand channel.
With the help of strategic and conceptual advice from Macaw, congstar is the first telecommunications brand ever to establish a TikTok brand channel. The recipe for success: content creators and own employees delivering authentic videos. Participation in and initiation of hashtag challenges ensures a high level of engagement among the young target group.
What makes TikTok so special
TikTok brings together especially young users and is also different from all other social platforms. While the latter are characterized by a mix of links, photos, videos and stories, TikTok is made up of 100% video content. This presents brands with new challenges in terms of creativity and storytelling. At the same time, it offers opportunities for high organic reach without already having many followers.
Congstar has seized on this opportunity and, with the support of Macaw, has relied on a high content frequency of 4-5 videos per week right from the start in order to quickly gain its own learnings on TikTok and to incorporate initial insight into its own hashtag challenges. The creativity of young content creators who know and understand both the young network and the very young target group better is being leveraged to this end. The content is supplemented by employer videos that provide a look behind the scenes at congstar and thus also contribute to the employer brand of the Cologne-based company.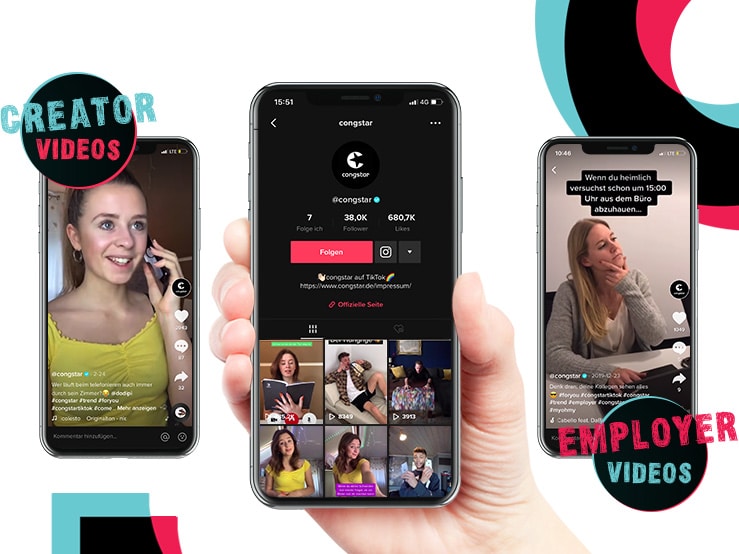 Two attention-grabbing hashtag challenges
With its first own hashtag challenges, congstar is also resolutely sticking to the creator approach, focusing on simple messages and entertainment. In the case of #dancefordata, a clever combination of challenge and product communication has been achieved by rewarding every participant who is also a congstar prepaid customer with free data volume. The fact that the second congstar hashtag campaign #probiertwasgeht is an adequate translation of the overarching ATL campaign and is simultaneously launching the congstar sound branding underscores the importance that TikTok has gained as a brand channel in a short time. Macaw provides conceptual support for both challenges and is offering the campaign support as a full service.
#dancefordata
@congstar

Zeig uns deine Moves! Jetzt mit congstar Prepaid unter #dancefordata abdancen. Als congstar Prepaid Kunde bekommst du 50 GB Datenvolumen for free
#probiertwasgeht
The result: sustainable follower growth and viral content
The original goal of developing TikTok as an important brand channel was achieved by congstar in just a few months – by quickly generating and implementing learnings based on organic content. The result to date: Sustainable follower growth with an engagement rate of over 20% and an average of at least 100K organic video views per week.
Looking for a creative partner?
Macaw has an extensive track-record of converting marketing campaigns and setting up successful content strategies. We do this for well-known brands such as Heineken, KLM, Henkel and Vorwerk. Need a sparring partner or personal advice? Our experts will be happy to help you.