When fraenk entered the German market two years ago under the umbrella of the mobile provider congstar, brand awareness was low. Although the concept is very convincing: fraenk offers only one tariff, which can be booked and managed exclusively via the fraenk app.
Social media strategy
To ensure that word gets around quickly about this positive example of the German mobile market, Macaw has developed a convincing social media strategy especially for the young target group. 'fraenk works so simply that we didn't want to talk about the process itself, but instead about relevant topics that interest our target group. Macaw understood our idea exactly and implemented it,' recalls Virginia Singer, social media and content expert at fraenk.
In close cooperation, Macaw and fraenk developed a strategic umbrella for social media communication. The primary goal: to attract attention and curiosity for the innovative brand and to build a community. To achieve this, the agency relies on a mix of content creation and paid ads on social media channels ­– a mix as innovative and unconventional as fraenk itself. Content creators write exciting stories about digital lifestyle for the young target group. In parallel, the marketing experts use paid ads to make the campaigns even more effective. Constant tests and analyses of the posts and ads on TikTok, Snapchat and Meta form a learning curve, with which the brand aligns the content more and more closely to its community. Valuable synergies have emerged in the collaboration between paid social and social media departments.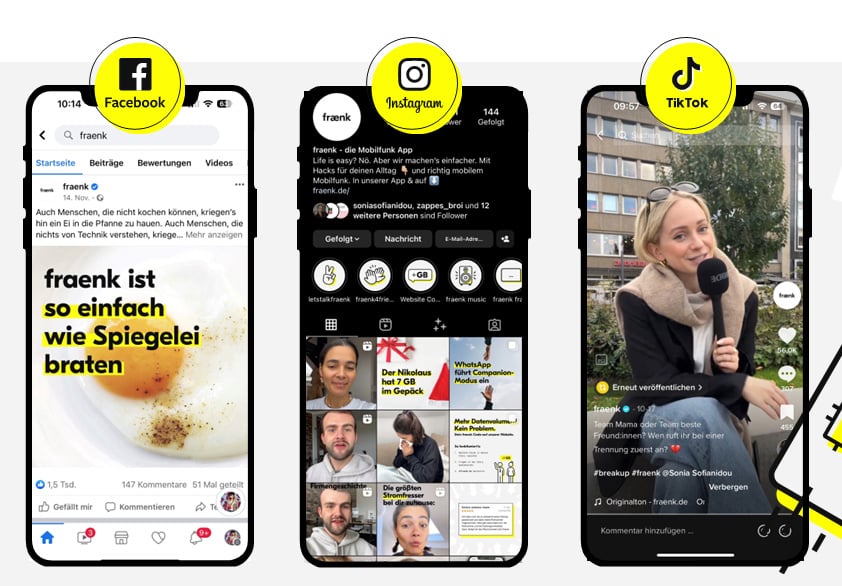 The strategy is so successful that brand awareness has increased in a short time. The advertising content has generated over 140 million impressions in five months and reached around 25 million unique users. Social media users have viewed the published videos 120 million times, four million of which viewed the clip in full. This has increased the VTR (view-through rate) by nine-fold. Video View optimized Creator Ads achieved special results. In addition, the CPM (cost-per-mille) was optimized and significantly reduced across campaigns and channels.
'We are really pleased with the results of the new strategy,' says Singer happily. "The team is doing a great job. By using organic and paid social media in an integrated way, we are extremely efficient and can react very quickly. We've never signed as many contracts as we have now.'
Challenge
The DNA of the dynamic brand fraenk is digital to the core. The goal for Macaw was therefore to create an integrated social media presence. Using young channels such as Instagram or TikTok, fraenk wanted to increase awareness and reach for the mobile app and build a strong community. In terms of a seamless customer journey, the entire product communication should be handled via social media.
Approach
Macaw convinced because the digital agency developed an integrated strategic and communicative umbrella for fraenk's social media communication. Through emotional storytelling on lifestyle topics, content creators position the brand in the target group. At the same time, fraenk relies on paid ads in addition to the organic strategy to continuously increase awareness within the target groups. Macaw's experts constantly analyze the media strategy, test new content and ads and optimize the campaigns. The fact that one agency covers topics such as content creation, creator scouting and handling, editorial planning and paid social, ensures special synergies.
Result
Since Macaw started synergizing social media content with paid social media for fraenk, the mobile app's followers have more than doubled. The new combined strategy has enabled the brand to increase reach and engagement. Within a year, brand awareness in Germany has grown significantly through all marketing activities.