The modern online magazine at vorwerk.de
Vorwerk, with its proud tradition, is known in Germany primarily for its successful product brands Kobold (vacuum cleaner) and Thermomix® (multifunctional food processor). However, the company's oldest division, flooring (carpets), and the newest edifice in the existing brand architecture, the Temial brand, are also important components of the Vorwerk umbrella brand. In order to create synergies between these product brands as well as to strengthen the umbrella brand Vorwerk and give it more touch and feel, Macaw has developed a content marketing strategy for Vorwerk in close cooperation with the client. The result is an overarching communications agenda, a modern online magazine about vorwerk.de and a modified publishing strategy on the brand's social media channels.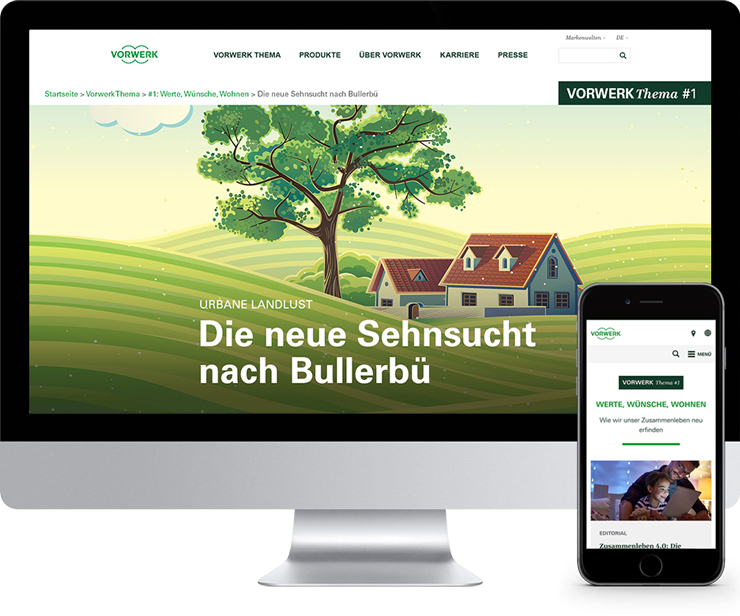 The strategy: New content to strengthen the umbrella brand
In an intensive strategy process, the basics of the new content marketing program are being developed: With the participation of various divisions from the company, challenges, competitive environments, brand values and topical areas are analyzed in workshops facilitated by Macaw, while targets are specified and target group profiles are developed.
On this basis, the agency is developing a content mission and a strategic topic agenda, which are being refined and spelled out in detail together with the company. Mission and topical agenda form the compass indicating the direction for all subsequent content marketing activities for the umbrella brand Vorwerk.
Implementation: The online magazine for modern living at home
The most important channel of the content marketing strategy is the online magazine, which Macaw is developing as part of Vorwerk's new corporate website. It constantly offers surprising new perspectives on and into modern life in the domestic sphere, which is subject to constant change.
Be it technical trends, zeitgeist or changing social conventions: As a brand that stands for high-quality household appliances, Vorwerk embraces these developments and offers its customers orientation and inspiration, but also concrete help in everyday domestic life. Formats in the magazine range from elaborate on-site reports to analyses and reports to articles offering advice. Guest authors are also featured in the online publication. Macaw provides concept, editing and implementation of the magazine's full service.
Social media and native advertising for reach and visibility
In order to make the high-quality content efficiently usable for the brand, the promotion of content via external channels is an integral part of the strategy. Macaw relies primarily on native advertising in editorial environments as well as organic and advertising content promotion on Facebook.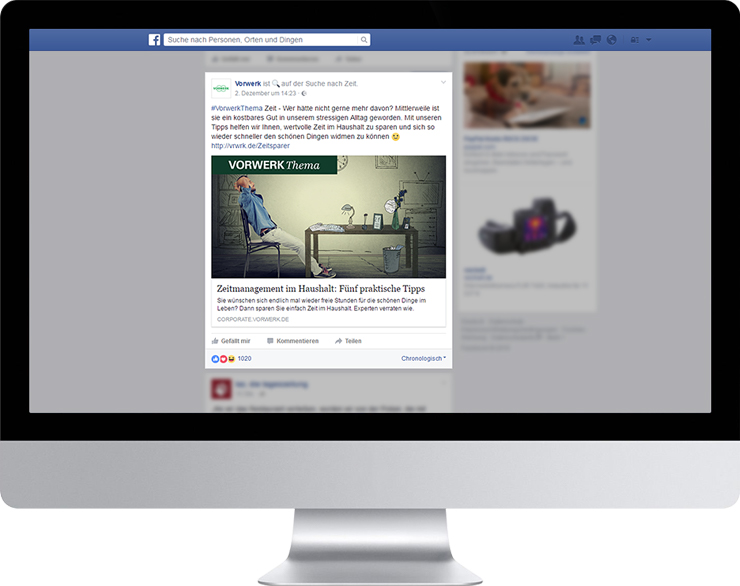 The magazine content augments the editorial mix on Vorwerk's social media channels and ensures new followers, more engagement and a higher dwell time on the company's corporate website.
Looking for a creative partner?
Macaw has an extensive track-record in converting marketing campaigns and setting up successful content strategies. We do this for well-known brands such as Heineken, KLM, Henkel and Vorwerk. Need a sparring partner or personal advice? Our experts will be happy to help you, please contact us.