Digital smoothie generator driving engagement
Under the banner of "More freshness. More ideas", REWE has been promoting its fresh food expertise since April 2019 with TV commercials, on social media and with other online activities. One of these online manifestations of the campaign is the "REWE to go Smoothie Generator" implemented by Macaw, which ensures reach with the help of influencer marketing and engagement with the brand thanks to intuitive participation mechanics and user-generated content (UGC).
Influencer challenge ensures campaign reach
As a high-reach activation of the campaign, football player Lukas Podolski and influencer xLaeta competed against each other in a "Smoothie Challenge" with specially created smoothies. On the campaign website developed by Macaw, users could vote for their favorite and win "juicy prizes". The results of this first voting phase: Almost 150,000 participants and a winning "apple-coconut-pomegranate" smoothie by xLeata, which was then made available at all REWE stores shortly afterwards.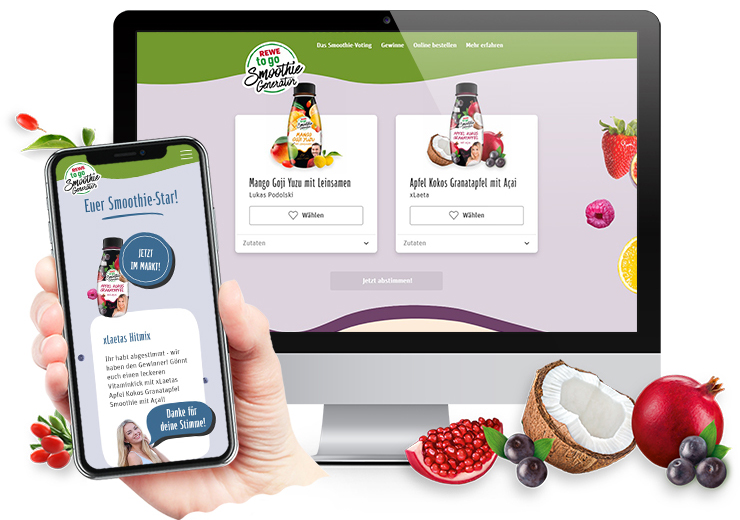 Intuitive smoothie blender scores over 28,000 entries
In the second campaign phase, the question is: "Who has the best smoothie recipe? The difference: users can now create their own smoothie, put it to the vote as well as vote for the creations of other users. Once again, participation is being incentivized by non-cash prizes and vouchers, and the winning smoothie is actually being produced and offered to all customers at REWE stores. To make the mixing experience as real as possible for users, Macaw is adapting the color gradients of the animated smoothies to align as closely as possible with the real features of the selected fruits, vegetables and spices.
The result: the intuitive digital smoothie mixer has been switched on by users over 40,000 times. 28,000 users have sent in a recipe and put it to the vote of the REWE jury. The winning smoothie ultimately received more than 40 per cent of all votes cast, while REWE gained thousands of users who have engaged with both the brand's promise of freshness and a product that will be available in the store range in the future.
Looking for a creative partner?
Macaw has an extensive track-record in converting marketing campaigns and setting up successful content strategies. We do this for well-known brands such as Heineken, KLM, Henkel and Vorwerk. Need a sparring partner or personal advice? Our experts will be happy to help you, please contact us.