In the fast-paced realm of professional communication, Microsoft Teams has emerged as the go-to platform for collaboration and seamless interaction. However, what if we told you that beyond having your meetings and chats all day, lies a potential game-changer for data analytics? In this blog, we'll explore the potential of having chat conversations with your data within MS Teams to revolutionize your daily analytical capabilities and how you can start building solutions that present insights to Microsoft Teams chats.
Simplifying your data landscape with Microsoft Fabric
While setting up an analytics platform has always been a technical exercise involving deploying many resources in Azure, this has become less complex and easier to start with given the recent launch of Microsoft Fabric. At Macaw, we have been exploring Microsoft Fabric for a while already. As we believe that Microsoft Fabric defines the future for data solutions on a SaaS platform, we have dived in from day one. With Microsoft Fabric, it is easier to bring analytical solutions closer to decision-makers by having more capabilities in one platform that covers all areas from data ingestion, transformation, enrichment, visualization, and driving action.
However, at Macaw, we thought, what if we bring the data even closer to the end-users? In our fast-paced world filled with meetings, emails, chats, and constant engagements, finding moments of calm amidst the chaos becomes challenging. Finding the time to really look at the numbers and navigate through different platforms can be difficult.
With the Power BI workload of Microsoft Fabric, we already have a spectrum of possibilities to engage with our data like attaching our reports to meetings, embedding in Teams channels, or just consuming it on our mobile devices in the Power BI App. But by opening the reports, you still have to look for that one number, that one chat you are interested in to base your decisions on.
Conversational Edge 
Nowadays, in the era of AI, we have all sorts of artificial intelligence-based conversations already. Think about ChatGPT, not even talking about how co-pilot changes the way technology specialists build their solutions. With Microsoft Fabric, positioned as a data platform in the era of AI, it doesn't only change the way we build our analytical solutions with the help of co-pilot, but it brings it a step further by also bringing the data to the end-users.
What if we told you that you can just chat with your data? Having a conversation in which you get an answer to your question, so you can make your decision and at the same time directly drive action! With the integration of low-code Power Platform solutions like Power Virtual Agents, it is possible to wire up a chatbot which directly interacts with your data. Bringing the worlds of the Power Platform and Microsoft Fabric together opens up a wealth of opportunities.
Interacting with your data via a chat can be possible for every user basing decisions on analytical insights. Let's dive into a case example in which every employee can directly interact with the data that matters most to them – their vacation days balance!
In today's fast-paced world, we need to take some time for ourselves to digest as well. Given we're all a bit overwhelmed by the excitement of all Microsoft Ignite announcements this week, let's ask HR Support how many vacation days we still have remaining for this year?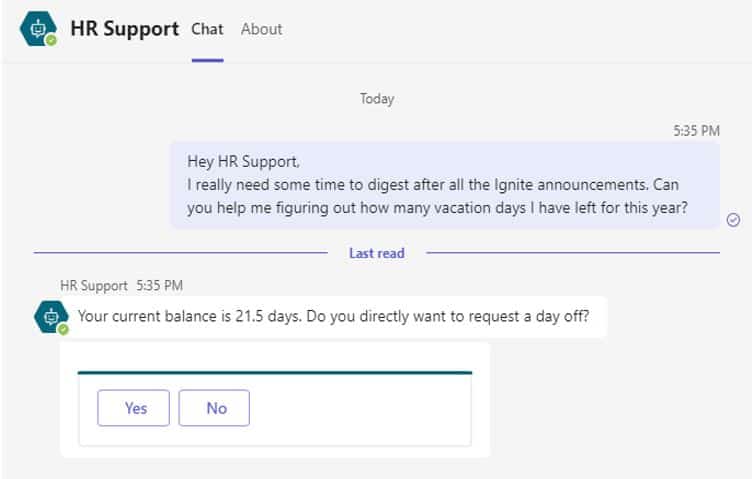 The data we're looking at is directly fetched from our Power BI dataset, which is frequently updated with the latest leave requests and vacation day bookings. Instead of navigating to any HR system to figure out where exactly you can find your vacation day balance, we can directly get the most up-to-date balance from our HR Support chatbot.
So let's say we directly want to take a day off and we ask the bot to file a request.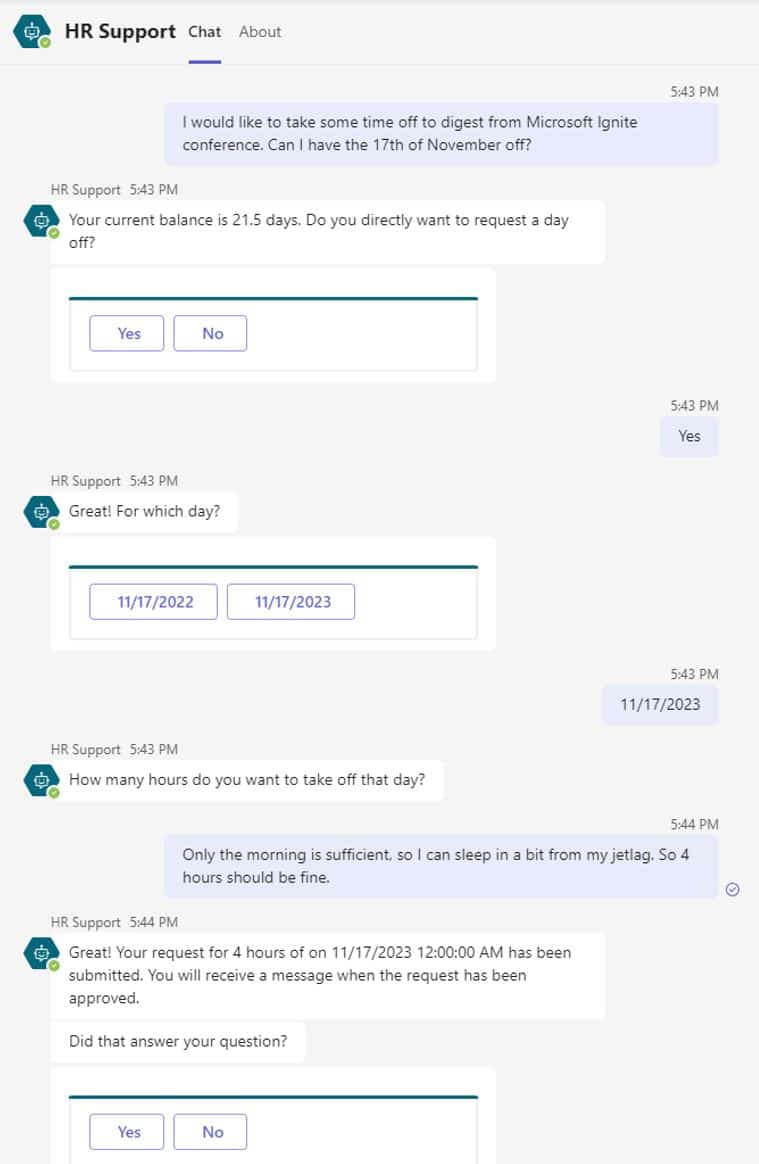 As already highlighted before, this solution combines Power Platform – Power Virtual Agents with the Power BI workload from Microsoft Fabric. Given the real-time capabilities that Microsoft Fabric offers, the vacation day balance is up to date in seconds after a new request has been raised. In case you ask the chatbot seconds after again what your vacation day balance would be, it directly shows you an up-to-date number subtracting the just-requested hours off.
Given this involves personal data, data security and privacy are priority number one and have been implemented from the foundation of this solution. The chatbot passes through the user identification from Microsoft Teams directly into the dataset as a security filter, which secures the data from prompt entry to response.
The journey goes on
At Macaw, we believe this is just the start of the wealth of opportunities that are coming our way. Conversational intelligence will put data-driven decision-making in a different perspective than just reporting and dashboarding. We are ready to continue this journey and explore new possibilities that cross our path. Are you ready to start your conversation with data? Are you curious to explore how your data can be made accessible through a chatbot, or do you want to learn more about Microsoft Fabric? Get in contact with us to plan your Fabric inspiration session!