Maximum awareness through influencer marketing and programmatic advertising
For decades, teenagers have associated the Chupa Chups brand with the iconic lollipops that are instantly recognizable at every kiosk counter thanks to the yellow and red logo. With the new Chupa Chups chewy candy, the confectionery brand is now penetrating a new segment in which several manufacturers have already established themselves here this Germany.
As the agency in charge, Macaw is developing and carrying out the launch campaign, which, in addition to attracting attention and raising awareness for the new product, also aims to enhance the brand's image as an authentic brand favored by teenagers.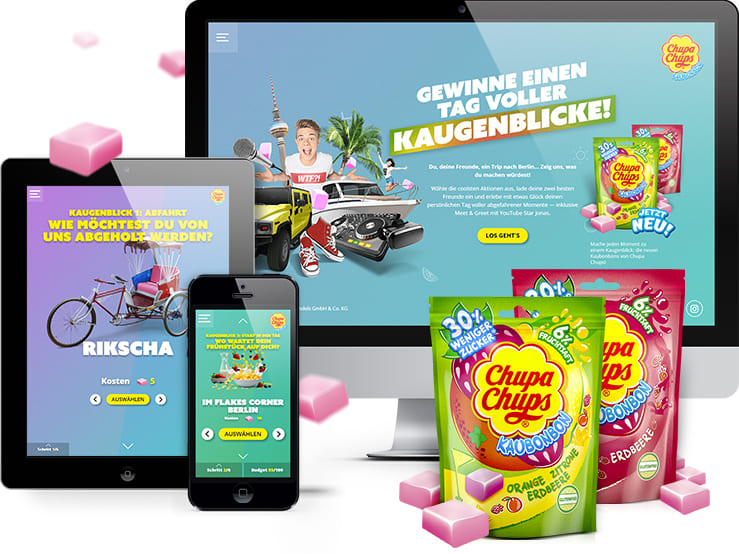 The primary message: The Chupa feeling now also as a chewing experience!
The special challenge of the campaign is to leverage existing awareness of Chupa Chups in the chewy candy segment while at the same time enhancing the brand as a whole among the target group of teenagers.
In the development of the creative concept and campaign communication, Macaw is therefore focusing on an emotional primary message: the new Chupa Chups chewy candy make every moment a "chewy moment" – a moment full of "joy, energy and craziness", as YouTube star Jonas Ems sums it up in a collaborative video released with the campaign launch.
Considerable reach thanks to influencer marketing: A chewy eye-catching day with YouTuber Jonas Ems
The well-known YouTuber Jonas Ems, who has around 1.6 million subscribers, is to be consistently integrated into all campaign elements in order to exploit his target group awareness and reach out directly to 12 to 18-year-olds and, above all, in an authentic way. In an interactive tool on www.kaugenblicke.de, young users can win a meet & greet with Jonas. They also have the chance to win a day full of chewy eye-catching moments in Berlin, which they can plan individually and share with their friends via WhatsApp. Of course, they'll always have plenty of Chupa Chups chewy candy with them.
To generate maximum reach for the product launch, Macaw initiated a programmatic advertising media campaign with a targeted focus on display as well as moving image ads in social media channels such as Facebook, Instagram and Snapchat. Add to this the organic reach of influencer marketing: After just one week, Jonas' video on YouTube has already registered almost 500,000 views.