The path to personalization
Since the turn of the 21st Century, the flame of brand loyalty has wavered in the winds of the internet. According to a Forbes Insight study, only 1 in 4 business leaders believes customers are loyal to brands, while 62% say the concept of loyalty is now close to obsolete.
The reason is simple: customers now value the experience more than they value the brand providing it. If your competitor offers a faster, more convenient, and more personalized customer experience, you can't rely on the aging concept of brand loyalty to rescue you. We as marketers all have to adjust to the new reality that brand loyalty is dead. Thus, developing a customer focused environment and delivering personalized marketing has become a strategic imperative.
Turn on your personalization switch
But that's probably nothing new to you! Any marketer worth their weight in leads knows the benefits of  personalization—and yet, a surprisingly large number of companies have not fully embraced this strategic tactic.
Typically, senior marketing professionals see personalization as a double-edged sword. On one hand, there's no doubting that consumers and end-users value personalized experiences and tailored recommendations across channels. On the other hand, it's assumed that the prospect of building out those unique digital journeys seems far too complex. The good news? Industry-leading brands are showing that the opposite is true.
While personalization isn't a switch you flip on or off, there is a straightforward process you can follow to launch a future-proof personalization program that's data-driven, generates brand loyalty and increases conversion.
eBook: 9 keys to personalization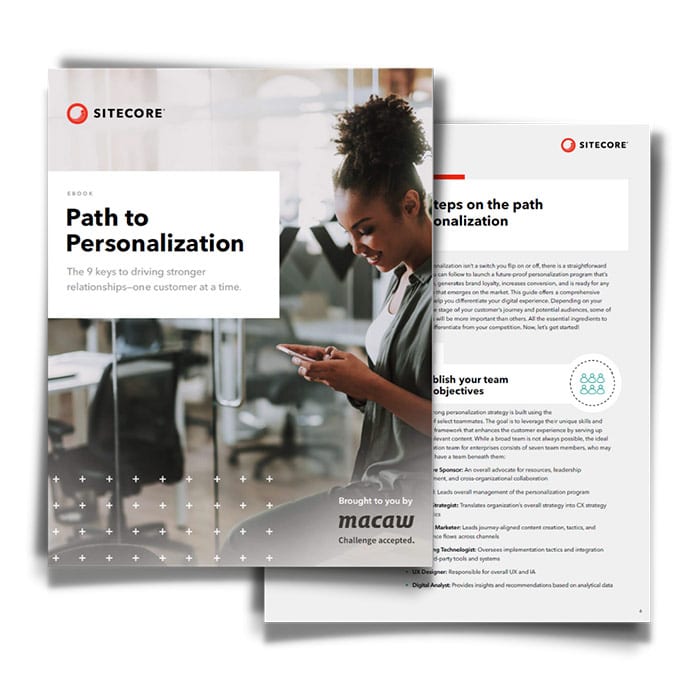 This eBook offers a comprehensive outline to help you differentiate your digital experience. Depending on your industry, the stage of your customer's journey and potential audiences, some of these steps will be more important than others. It contains all the essential ingredients to help you differentiate from your competition. Gets started and download the eBook.
Here's a sneek peek of the outline:
Establish your team and objectives
Outline audience segments
Map the customer journey
Create workflows and start testing
Empower marketers to quickly create, distribute and iterate content
Leverage geolocation and localization
Centralize and leverage third-party data sources
Go beyond your website
Make personalization a core business priority